Merchandise
All Cornell Chimes merchandise is available exclusively at the Cornell Store. Call (800) 624-4080 or follow the links below to order online.
The Cornell Chimes: Music from the Tower
Music from the Tower compact disk is $15. It is the most recent recording in the Cornell Chimes music collection. The 23-piece recording is grouped into five categories: Cornell Songs, Original Compositions, World, Classical, and Popular Music, to highlight the diverse array of music that rings daily from McGraw Tower. The individual pieces were selected to showcase the chimesmasters ever-expanding musical talents.
---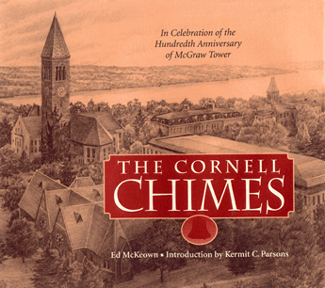 The Cornell Chimes by Ed McKeown
The Cornell Chimes book is $24.95. This comprehensive history of the Cornell Chimes and McGraw Tower — published on the occasion of the 100th anniversary of the tower — contains more than 50 archival photos and illustrations, anecdotes and memoirs. Beginning with James O'Neill, class of 1871, who was moved by the inaugural-day concert to petition President Andrew D. White for permission to play the bells, chimesmasters from throughout Cornell's history tell the story of the changing campus and the changing times.