Merchandise
All Cornell Chimes merchandise is available exclusively at the Cornell Store. Call (800) 624-4080 or follow the links below to order online.
---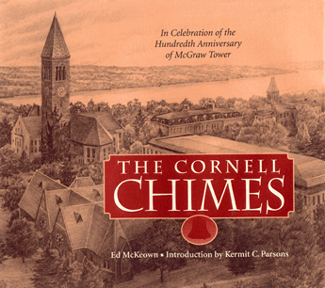 The Cornell Chimes by Ed McKeown
The Cornell Chimes book is $24.95. This comprehensive history of the Cornell Chimes and McGraw Tower — published on the occasion of the 100th anniversary of the tower — contains more than 50 archival photos and illustrations, anecdotes and memoirs. Beginning with James O'Neill, class of 1871, who was moved by the inaugural-day concert to petition President Andrew D. White for permission to play the bells, chimesmasters from throughout Cornell's history tell the story of the changing campus and the changing times.